Green energy for HCM: why not?
13.08.2015 - by Admin
Recently, the People's Committee of HCMC has approved the Green Energy Program in 2015, which emphasizes development goals "clean electricity" resource from the new energy, it's power capacity takes up more than 1% consumption power the whole city, equivalent to 48MW (according to the HCMC electricity planning, up to 2015 consumption electric power of the whole city is 4,800 MW). Does modest target of 1% has feasible?
According to the People's Committee of HCMC, to successfully implementation of the Green Energy Program for the city up to 2015 should promote the development of renewable energy sources and encourage the use of new energy friendly with environment. Not only that, necessary to speed up the propaganda and popularization to the community raising awareness of the society about the use of saving energy and green energy.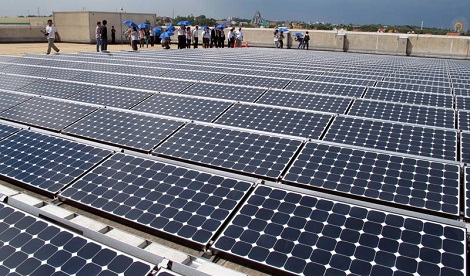 Solar power system at assembly and Accreditation of chips the plant Intel Vietnam located in Ho Chi Minh City Hi-Tech Park 
In addition, the People's Committee of HCMC emphasized the application of management measures, techniques, science and technology to reduce consumption energy of the device, means also essential. A vital element is the need to improve the efficiency of research, use and develop renewable energy sources, clean energy to protect the environment.
Green Energy Program for the HCM also set a target of saving electricity in the period from now to 2015 is 2% compared to the commercial power production. Particularly in 2012, strive to achieved 400 million KWh the saving electricity. Known in the period 2007-2011, HCMC has deployed synchronous saving energy solutions such as: save more than 1,043 million KWh of electricity, accounting over 1.2% of commercial electricity, equivalent to more than 1,000 billion. Only in 2011, saving electricity reached 391.3 million kWh the highest city-wide, accounting for 2.5% of commercial electricity and increased by 20 percent over the same period.
Problem currently is the development of sources "green energy and clean" has the power of electricity accounted for over 1% (equivalent to 48MW) power consumption of the whole city could become reality or not? There are any barriers to the development of sources of "clean power" outside the market as well as into practice applications?
With solar power, according to statistics in the HCMC showed that, up to now haven't  government offices use solar energy. Only a few households, businesses used or invested capital equipment production technology using solar power.
Typically in late April 2012, Intel Vietnam has inaugurated the solar electric system at assembly and Accreditation of chips the plant in HCMC Hi-Tech Park. Solar electric systems at Intel Vietnam made from 1,092 solar panels along 21 inverters power is capable of 321,000 KWh of electricity and limited to 221 tons CO2 emitted the annual. The solar power system has capacity of 200 KWp, it's the first solar electric systems, and only of Intel in Asia and the 6th in the 15 solar electric systems largest of Intel worldwide. This is an important milestone of Intel's commitment to improving the rate of use of clean energy in the HCMC, minimize carbon emissions from the plant.
Previously, there was a project to build factories producing solar panels with the largest scale so far in Vietnam by the company First Solar (leading company for solar cell production American sun) began construction in May 3/2011 in the Southeast industrial Zone (Cu Chi district, Ho. HCM) with a total investment of $ 300 million. Then First Solar has been forced to postpone the construction of the plant partly because items solar cells origin from China are flooding the the market.
Previously, there has been build project producing solar panels factory has the largest scale ever in Vietnam due to First Solar Company (leading company producing solar battery of America) ) began construction in March 2011 at the Southeastern industrial Zone (Cu Chi district , HCMC) with total investment of 300 million dollars. After that First Solar was forced to postpone the construction because solar battery items originating from China are flooding the market.
Currently the city has power plants using renewable energy from Go Cat landfill (Binh Tan Dist, HCMC) with capacity only 2MW. This is the first producing electricity plant from garbage, put into operation quite successfully since May 7/2005 so far and harmony to the grid. In addition, many landfills are expected to build more power plants from garbage with capacity of bigger than Go Cat landfill as Da Phuoc landfill (Binh Chanh Dist with a capacity about 7 MW, Dong Thanh landfill (Hoc Mon Dist) with a capacity of 7 MW or potential landfills as Phuoc Hiep 1 (Cu Chi Dist).
According to experts, its own emission reductions at Dong Thanh landfill is nearly 2.4 million tons of CO2 if invested power plant. According to estimates, every day a wholesale market in the HCMC emits about 50 tons of waste, of which 95% is organic waste, that is the raw material for generating gas collection. Investment capital for power plant project from the waste about 3-4 million dollars. Noteworthy, addition to more power, these projects also help saving cost garbage collection 300 million per month.
Particularly for projects producing electricity from biogas advantage of livestock waste had low production cost but so far only development and supply of electricity common in household scale. Can say the focus on renewable energy is necessary job, need to consider of environmental factors, to making this energy source becomes cleaner. 
Along with the objective of developing renewable energy sources, the end of 2011, Saigon Industry Corporation, HCMC Power Corporation, Neptech Company and YnS – OCBM Company (Russia) have partnered to establish company specializing in the production of wind power equipment provided for wind power projects around the country simultaneously exported. The time trial production company three cylinder YNS wind power technology from Russia with  total value of  4.8 million dollars, which has two cylinder are located in Can Gio (HCMC). 
Recent April 2012, Cong Ly Co. Ltd. Construction – Trade – Tourism has proposed the People's Committee of HCMC allow to implement wind power project capacity of 200 MW with total investment of 10.000 billion at Can Thanh Town (Can Gio Dist). A survey at Can Gio with wind speeds over 7m/sec, suitable development for wind power, create more sources of renewable energy for the city. If permitted to deploy, the company will install 125 wind turbines stretching 20km along the beach Can Thanh, and the wind turbine due to the GE company (USA) supply and installation. Construction period about 3-4 years. Estimated capital for wind power project in Can Gio due to the US Ex-Im Bank lending for a period of 22 years.
Expected to take about 12 years, the company will recover the capital. HCMC People's Committee leadership requested this business review and reports more ecological environmental impacts for the region and must be Ministry of Natural Resources & Environment through before  being approved by the People's Committee City.
According to experts the biggest obstacle to a green energy source for HCMC is matter of power production costs and prices are in line with the competitive power market or not? Because the issue of the cost of investment for "clean power" as source: solar power, wind power, renewable energy, geothermal and biofuel… the fact remains quite high in comparison with the common ground of the market, beyond the financial capacity, mobilize capital of investors during capital recovery capabilities and profits is not "in one day".
This is one of the main barriers hindering development of green energy in HCMC. Therefore, to develop green energy for HCMC, the key issue is to reduce investment costs. To do that, but only target 1% of "clean power", not also HCMC need to give more detailed route about planning development energy friendly with environment as well as the necessary supporting policies and incentives for reasonable investors to pour capital into the source "power clean " in order to bring HCMC became pioneer unit application of green energy in the country.
By: Petrotimes.vn
Tags: Doanh nghiệp , Hộ dân cư , Năng lượng mặt trời , Nhà nước ,
OTHER NEWS